A teleprompter is a useful tool for many video producers or those who often give speeches and do presentations, but it takes a lot of time and energy to master. Today, we aimed to demonstrate to you the benefits of using a camera teleprompter as well as how to write scripts, and present with assurance while maintaining eye contact with your audience.
Quick overview: What is a camera mounted teleprompter?
Why use a compact teleprompter for your YouTube video recording?
How to write scripts that help you read more naturally?
How to read from a video camera teleprompter like a professional?

Quick overview: What is a camera mounted teleprompter?
A brief definition:

A teleprompter is a tool that shows a speaker their lines of speech, and the camera-mounted type falls into this category with the on-floor and presidential type.

How does it work:

The ideal options are those that show text right in front of the camera lens so that the speaker may look into it, though it is occasionally put below it. The device has a horizontally positioned flat-display panel below the shooting devices. The remarks are then reflected at the presenter by a transparent mirror that has been positioned at a 40-degree angle to it.

What is it used for:

A camera lens teleprompter can be used for video production on the online short video platform, course recording for zoom meetings or online meetings and presentations, as well as some live streaming, and product introduction videos sent to customers. Unlike the presidential type, it is geared toward the camera and rarely toward a live audience. At the same time, it is portable and can be used together with the diverse camera. Small ones like the Moman MT1 which can hold a phone or tablet, can even be mounted on photography handheld grips for shooting thanks to its mini structure and lightweight.
Why use a compact teleprompter for your YouTube video recording?
Why so many YouTubers are using an on camera teleprompter for youtube videos? The answer is self-evident: it's all about improving video quality. It does have a lot of advantages and can help you a lot, here we just to mention two situations in which one is particularly needed.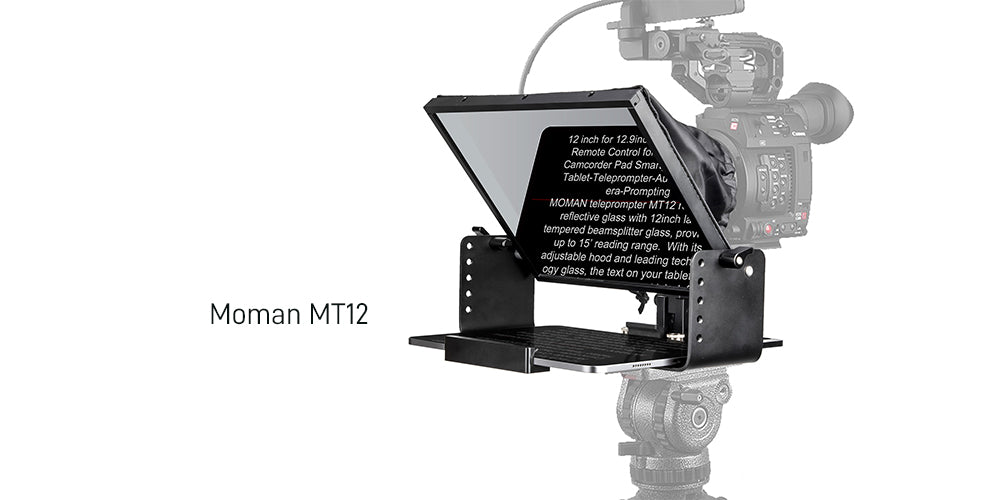 For vloggers who just start their channel:

For video recording, a portable and fully assembled teleprompter can relieve the psychological burden of many vlog starters. Because you won't have to memorize your text and you won't lose crucial details. By using the professional teleprompter like Moman MT12 for Youtubers, you can clearly read your video scripts and act so natural and confident in front of te lens. It all adds up to a smooth start that will give you the confidence you need to stick with your channel and keep running it.

For influencers who need to update frequently:

A Blackmagic studio camera teleprompter can help set the timing of the video, so as to keep you on track, preventing the video from becoming too long. And it ensures you cover all the points you intended. It's not easy to keep up with a high frequency of updates to keep up with the number of followers. Just coming up with video themes and content is enough of an energy-consuming task, and this tool will make it much easier. You don't have to memorize what you're going to say, just write it and practice it in advance, which will save you a lot of memory loss and time spent forgetting what you're going to say. For outdoors shooting, it's also suggested to choose a teleprompter for iPhone so as to gain free movement.
Full review on Moman MT12 camera teleprompter for video recording
How to write scripts that help you read more naturally?
The genuine underlying meaning may only be appreciated if you put it to good use. That entails creating compelling scripts.
1. Write as you are speaking to someone
The script of a teleprompter for camera must sound natural. Writing in the reader is the only method to achieve this. If you're not emphasizing something, don't use contractions, and whenever you can, write in the first person.
2. Make numbers and abbreviations clearly
Include all information, including statistics and jargon, in writing. The speaker can read it more easily at a look.
3. Try not to use complex jargon or formal words
Use common language as much as you can to engage your audience through the lens that is installed behind the pocket cinema camera teleprompter or other forms of shooting equipment. The message comes out more naturally, and the audience can relate to it better.
4. Take notes and highlight points
Words in a sentence that needs to be highlighted are underlined. Where to pause should be noted in the script. Where you know you need to breathe, take notes in the script. You'll sound less stiff, more naturally expressive, and less wooden as a result of doing this when facing the cameras. These will also aid in your communication with the audience.
5. Edit the case of the text according to personal habits
All capitals are frequently used in scripts. On small displays, reading is simpler. But in order to avoid confusion, the reader should be informed of this.
How to read from a video camera teleprompter like a professional?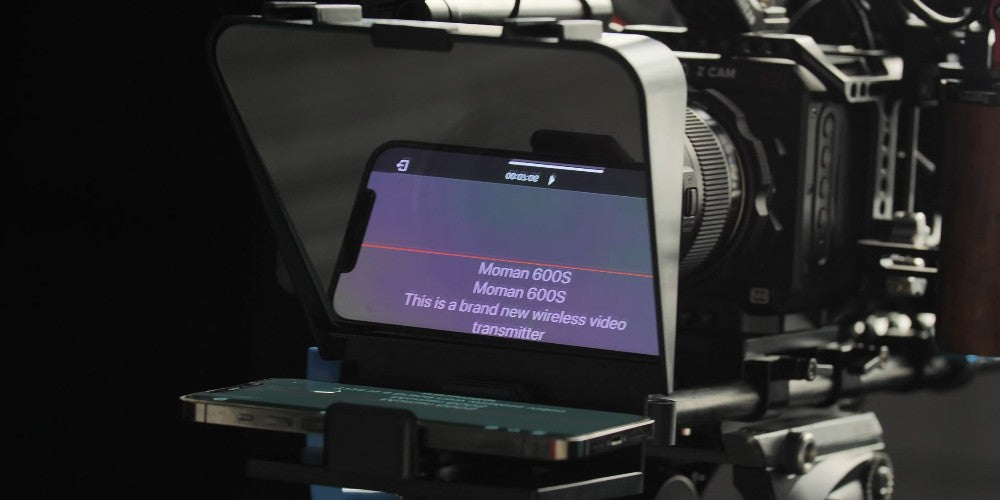 1. What does it look like to speak before a prompter?
Using a prompter can improve your presentation, but it can also add another degree of complexity. Imagine you've decided to send a video message to your staff or customers. You won't have a crowd to assist you to see how you come across, no smiling faces, nodding heads, or sleeping folks, whether it's recorded or live. The simplest response is that it is challenging to communicate when using a camera teleprompter. Imagine how much more difficult it is to read a script from two tiny panels of glass that are flanked on the speaker's two sides and placed feet apart from one another if most of the vloggers who read from a prepared script sound exactly like they are reading from a script!
2. How to make the speech flow better in front of a recording camera lens
Plenty of practice ahead of time is essential, as is a good reading text as mentioned above. In addition, you can learn some tips about how to read a script from a teleprompter for DSLR camera. For instance, you must choose your tempo. No attempt is being made by the operator to give you the appearance that you are in charge. Your speaking patterns and natural tempo are known only to you. If you have suggestions or worries, express them politely and honestly. To make you sound as confident and professional as possible and to ensure your comfort, your operator will work with you. You want your viewers to be fervent about your message unless you're delivering shockingly bad news (for instance, if you're a newscaster working somewhere other than Fox). If you don't seem enthusiastic, your audience won't be either. Keep in mind to smile and demonstrate your enthusiasm for the subject.
3. How to keep the eye movement less noticeable when reading scripts on a camera teleprompter
Working with it involves a great deal of finesse. In addition to reading your screenplay aloud, you should pay attention to your body language, breathing, and vocal intonation. When you use the large screen home teleprompter, the text on the glass will grow accordingly, and the reading range does the same too. Although reading is made simpler, eye movement is still noticeable. To do that, let the text now rise into your field of vision so you can read it. In this approach, the text will automatically appear to you rather than requiring you to move your eyes around the DSLR camera teleprompter's beam-splitter mirror. You need to be able to identify what you're doing in front of the camera that works, what doesn't work, and how to change for a successful and engaging on-camera performance.