Delivering stability and lightweight operation when you need smooth handheld video footage, a video camera stabilizer is undoubtedly worth investing in if you're a professional photographer or videographer. This blog will talk about why you need it and how to charge and use it.
What is a video camera stabilizer?
Three reasons you need a stabilizer gimbal for videography
How to use the camera stabilizer for video recording?
What is a video camera stabilizer?
It's common for videos taken with a handheld camera or on a phone to be a little wobbly. It allows you to pan, rotate, and control your photos on anything from DSLR cameras to GoPros, movie cameras to cellphones, making smooth and beautiful images and videos.
Three reasons you need a stabilizer gimbal for videography
Photographers may take photos with a professional appearance with this tool since it provides the cameraman with several additional benefits. And here we list the main three instances for you.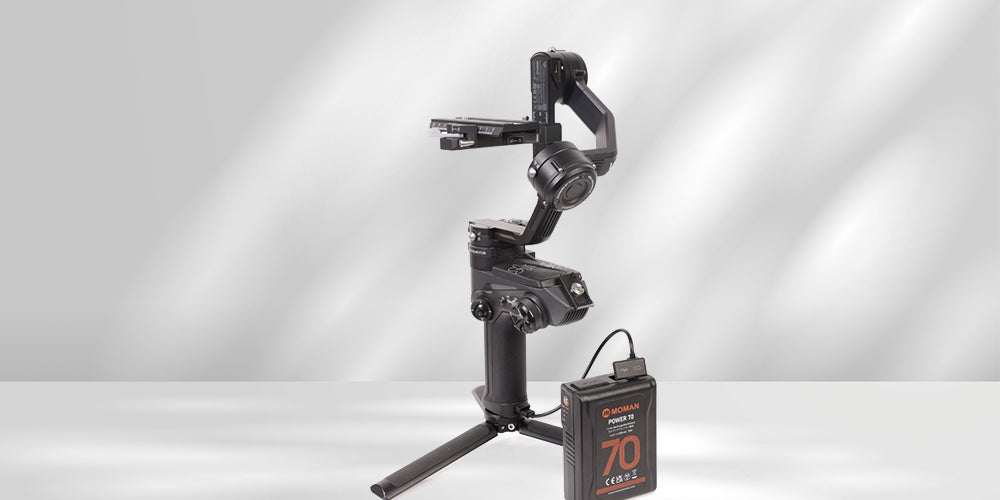 1. Prevent instability for both dynamic and static photos
How to stabilize camera for video? The clear benefit of a camera stabilizer is its superior capacity to a camera operator to steady photographs, both dynamic and static. It keeps track of how often your hands tremble while you're taking pictures and how these tremors appear in the pictures you got.
2. Support shooting in different settings and from various angles
It enables users to take pictures and movies from different angles and farther away. Even some will come with extra features that let you shoot in different settings. For instance, some models incorporate time-lapse and auto-face detection features to make shooting easier and more pleasurable.
3. Serve as a convenient holder for the camera and extra accessories
As a practical and relaxed way for the photographer to handle the camera. It can capture photographs that move fluidly and also provides a place for other camera accessories to be mounted. A video camera stabilizer grips can support the other equipment in your photography setup, such as a v mount battery, panel fill light, 4k monitor, etc.
How to use the camera stabilizer for video recording?
After understanding its benefits and how it operates, it's now for some advice on how to utilize one.
1. Prepare a compact power source
The DSLR video camera stabilizer needs charging, and the v mount battery would be an ideal choice for your videography. What we need is a compact yet powerful power supply, and Moman Power 70 suchlike an external mini battery with 70Wh capacity and a thin sturdy body perfectly meets our needs. It has four kinds of outputs including Type-C, BP, D-tap, and an electric pole. when you were stationary or taking a picture, it would typically support and steady your camera using motors and sensors. This won't consume a lot of electricity, but a micro v-lock battery makes it no need to worry about running out of power.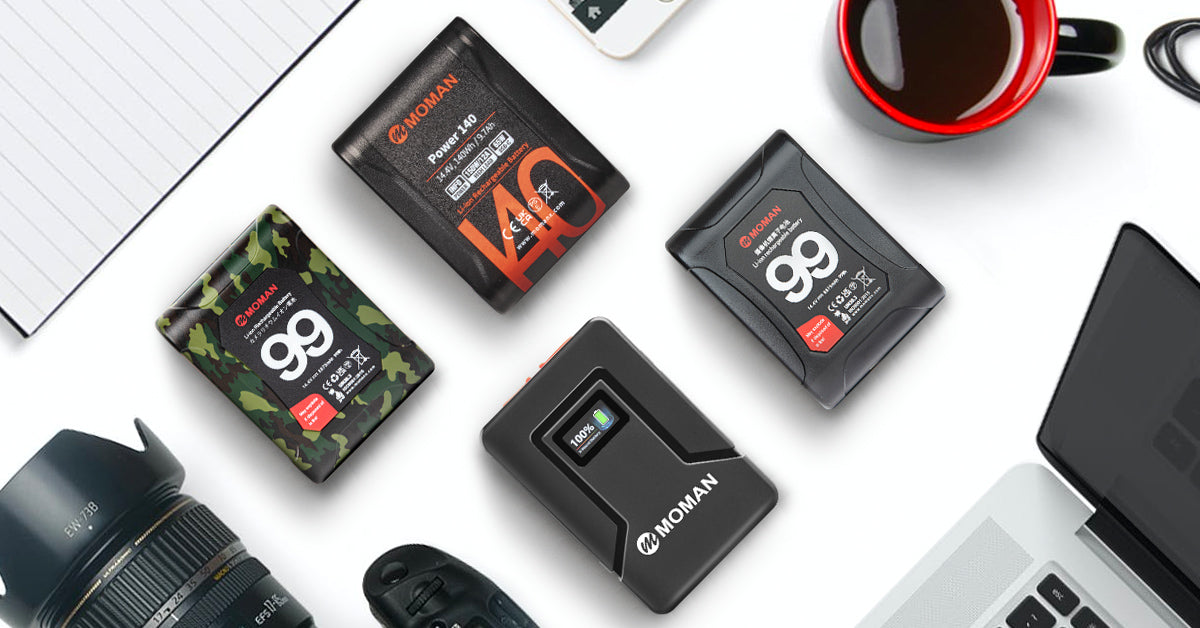 2. Practice and get used to the movement
The usage of camera stabilizers, particularly vest-type systems, is not very comfortable to use. Give yourself time to become used to using a camera stabilizer, and keep practicing until you master it.
3. Know different kinds of creative shots
A professional video producer will know how camera gears affect a shot's feelings. Learning how to choose the right one can make or break a scene. Video camera shoulder stabilizer is fantastic for shooting a diversity of photos, particularly ones that contain movement. Some nice images to shoot using a camera stabilizer include overhead shots, tracking shots, follow shots and pan shots. Plan out each shot you'll be getting as you start recording, and be aware of the steps necessary to execute them well.
4. Make your setup as comfortable as possible
Give yourself enough time to get ready before filming starts because certain camera stabilizer systems might take some time to set up. Also, the large video camera stabilizer is bulky and heavy. If you're using a large type, make sure the other accessories mounted on it are as lightweight and compact as possible. And the v mount battery bracket you choose should be also mini and portable. First you can start with a power source that can charge several devices at one time, saving you budget and efforts of holding your gears. For example, a battery for 4k camera monitor is also a power supply for your cameras, microphones, and more. Also, you need to make sure to allot some time during extended filming sessions to rest up. The last thing you want to happen while filming is an injury.
5. Choose the right kind for your specific need
Selecting and purchasing an action camera video stabilization is a prerequisite for any comfortable usage experience. The correct one for your job and equipment must first be specified. Your demands will determine the stabilizer you select. A mobile video camera stabilizer could be a suitable choice for you if you're a casual videographer or don't require a flawlessly stable shot. A vest stabilizer system may be a better option if you're a pro or require the steadiest shot.
The best ones are capable of discerning the difference between an intentional video pan and an inadvertent one. A top-notch stabilizer is also quite quiet. They don't make noise since the brushless motors that spin the lens do it softly, which is ideal and a big benefit of quickly becoming accustomed to a stabilizer.
Conclusion
Each professional filmmaker must have a handheld video camera stabilizer or a vest type. Although it is easy to take pictures with your hands, this is not necessarily the most creative method to get good pictures. It can reduce vibration while holding heavy recording devices. If you haven't already purchased one, assess your demands and select a suitable model. With the help of these camera attachments, you'll be capturing fluid action photos in no time.