It's not always essential, but it can be quite beneficial, to read a video screenplay while using a teleprompter. This blog tells you why we choose a mobile phone teleprompter when recording rather than a phone app, and how to use it step by step.
What is a teleprompter?
Why choose a teleprompter for phone rather than a free prompter app?
Which is better, smartphone teleprompter with small size or a big one?
How to use phone teleprompter step by step?
What is a teleprompter?
It's a tool used to conceal the text from a television camera by projecting a speaker's script onto a translucent panel in front of the lens. They usually are divided into three types: presidential, stand, and camera-mounted. The mobile phone teleprompter that we're talking about today can be classified as the third. While reading the words they must speak, the presenter can maintain eye contact with the audience thanks to it. The reader can sound more impromptu by using it rather than having to memorize their lines.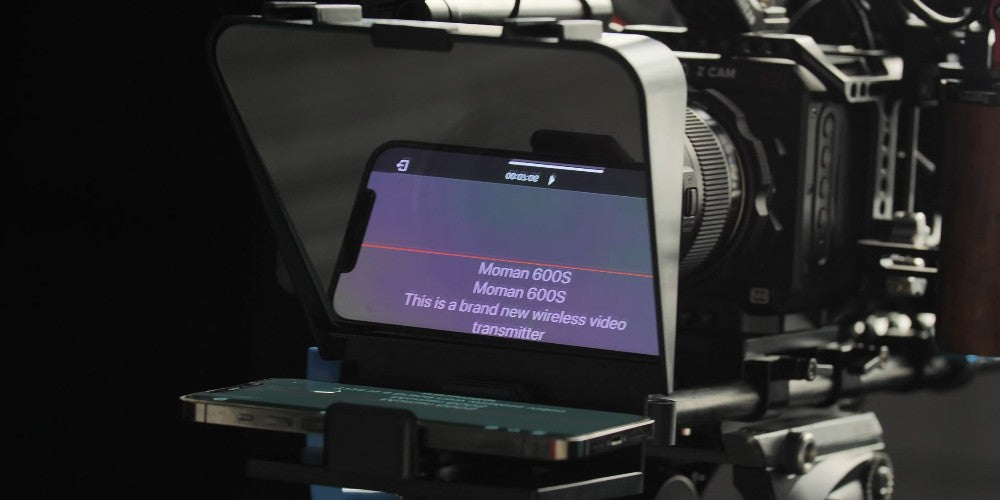 Why choose a teleprompter for phone rather than a free prompter app?
1. A professional teleprompter offers better reading experience and recording effect
Many video producers like vloggers, interviewers, and filmmakers use teleprompters these days since they can offer highly efficient work that a simple phone app can never compare. The professional product features a wider screen for reading and monitoring and easier mounting ways that can quickly attach the camera lens to the teleprompter shroud and start recording. Teleprompters excel in versatility that they have many more copy-editing functions and control modes than mobile apps. While they're not expensive, why not just buy a real one and get the convenience of using it instead of the free but inefficient way?
2. A complete product is more budget yet delicate than a teleprompter for cell phone you assembled from parts
What parts are included in a complete teleprompter you can buy on the market? It will be equipped with clear glass of no ghosting, a shroud that can block unwanted light reflecting on your reading glass, and a stable and sturdy clamp or holder. Take Moman mobile teleprompters as an example, the package may include lens adapters ad foam rings for you to install your cameras behind the devices, a carrying bag, a tripod or a handheld grip, dust cloth, phone clamps, a remote for controlling the scripts rolling. Also, there's a customized teleprompter App Moman Prompter for you to upload and add your text on it. If you only use your phone as a prompter, then you have to buy and assemble the other parts to see how they fit, which is more expensive and more troublesome.
Which is better, smartphone teleprompter with small size or a big one?
1. Table: Comparison of Moman teleprompter MT1 and MT12
| | | |
| --- | --- | --- |
|   | | |
| Material | Plastic and glass | Metal and glass |
| Dimensions | 260*220*160mm | 340*270*96mm |
| Weight | 800g | 1800g |
| Phone teleprompter | ✓ | ✓ |
| Tablet teleprompter | ☓ | ✓ |
| Camera recording | ✓ | ✓ |
| Remote included | ✓ | ✓ |
2. Each type has its advantages and disadvantages
Pros of MT1: Lightweight and mini enough for recording with a handheld grip
The Moman MT1 is a teleprompter for iPhone recording that weighs only 800g and is made of plastic and glass. It features an adjustable phone clamp on the bottom, which is able to hold different-sized phones, such as iPhone 12 mini, HONOR v20, and HUAWEI Mate 40 Pro, and they all work well. Its package consists of a handheld grip as a free gift, which has a 1/4" thread for mounting, a 360° adjustable ball head for you to find the right shooting angle, and a handle that can acts as a tripod too. This set of devices is very convenient for outdoor shooting and on-the-go filming, you can freely hold up your camera or phone with the MT1 attached to it, and start your vlog recording without too much burden.
Cons of MT1: Limited application and plastic construction
While the MT1's size makes it convenient, it also limits its use as a phone teleprompter, not able to work with a tablet or PC. In addition, MT1 is made from plastic material, which is the reason why it is light, it is not as strong and sturdy as MT12's metal body. But if you use it carefully, it's still a durable tool.
Pros of MT12: Compatible for both phone and tablet with great reading effect
MT12 is designed to be a large-screen teleprompter with a 12-inch HD display, which means it can not only support phone uses but also big tablets up to a maximum of 12.9 inches like iPads and so on since it has an adjustable clamp and a beam splitter glass of the corresponding size. What a big screen means is that it can offer a wider reading range of 15 feet for you in a video recording as well as more diverse prompter device options. What's more, it is built of a metal structure with a drawstring feature.
Cons of MT12: Not suitable for handheld use
As mentioned above, the MT12 mobile teleprompter for tablet has a significant weight of up to 1800g, which is more than twice that of the MT1. When we use it, we tend to install it on a tripod or monopod, which means that once the recording starts, we will not be able to move it freely. And it is not applicable to those shooting types with fast scene transitions, since it is generally a bit heavy and big and cannot be installed on handheld gear. Of course, if you have the appropriate assembly bracket, and enough arm strength, this is also possible.
How to use phone teleprompter step by step?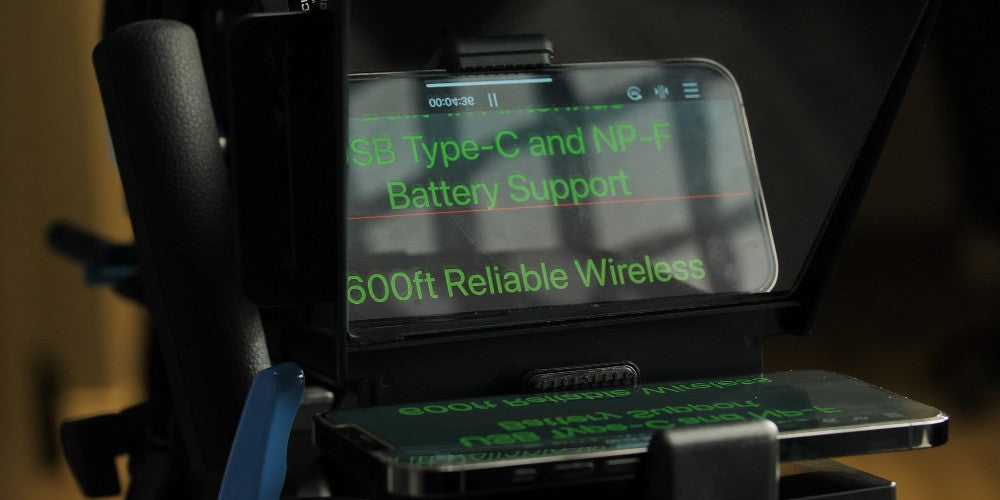 Mounting
You can mount a teleprompter for phone and camera to the front of your DSLR's lens if you purchase one. A second smartphone can be used to record videos with teleprompters and is compatible with the teleprompter's back. In either case, the integrated teleprompter and camera will only require one tripod. The setup is simpler and more manageable as a result. Two tripods can be required for larger teleprompters.
Positioning
The smartphone is positioned on its back beneath the beam-splitter mirror, regardless of size. Then you position your camera in front of the beam-splitting mirror. As was noted earlier, this enables you to read the script while gazing directly into the camera. This is crucial because your audience will be watching from where your lens is when your video goes live. You are not looking at your audience if you are focused on the lens. Noted that with an external microphone for camera, which also works with the phones and tablets, you won't need to be worried about whether the shroud of the teleprompter will interfere the recording.
Controlling
Utilizing a remote control is the final requirement to improving the enjoyment of using the mobile phone teleprompter. You may have a few alternatives depending on the teleprompter app you're using. You have a few possibilities, such as using a Bluetooth keyboard, or a game controller, a different phone. Verify your app to see the available remote controller.