It may be a terrific approach to enjoy the trip and maintain the motivation to listen to music while riding a motorcycle. To guarantee that you can safely and properly hear your music, it's essential to get a motorcycle Bluetooth headset. Read more for top picks recommended and the choosing tips from the following parts:
Moman best Bluetooth headset for motorcycle riding
Five considerations when choosing a motorcycle Bluetooth headset
What can you use the Moman motorcycle helmet Bluetooth headsets for?
How to fit the Moman Bluetooth headphone device in your helmet?
FAQ about Bluetooth helmet headsets for motorcyclists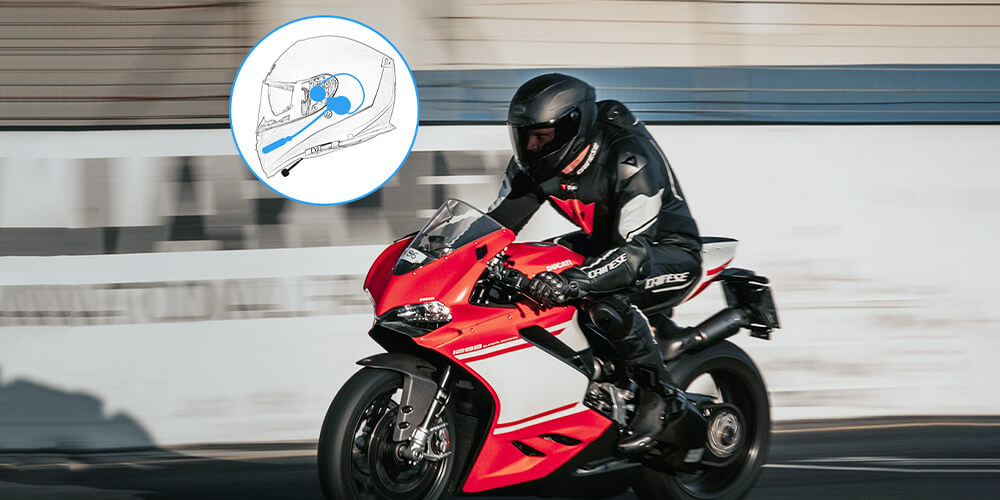 Moman best Bluetooth headsets for motorcycle riding
We suggest some of the top headsets available at Moman PhotoGears Store: Moman H4 and H4 Plus. They both feature budget prices under $30 and versatile functions for a better riding experience.
| | | |
| --- | --- | --- |
|   | Moman H4 | Moman H4 Plus |
| Price(USD) | $25.99 | $23.99 |
| Bluetooth Version | 5.0+EDR | 5.3 |
| Working Time | 5 Hours | 32 Hours |
| Standby Time | 160 Hours | 360 Hours |
Moman H4 best budget Bluetooth headset for motorcycle half helmet
Moman H4 is a simple type of helmet earphone with an expanded boom microphone. Here are two key features that make it outstanding and worth your buying.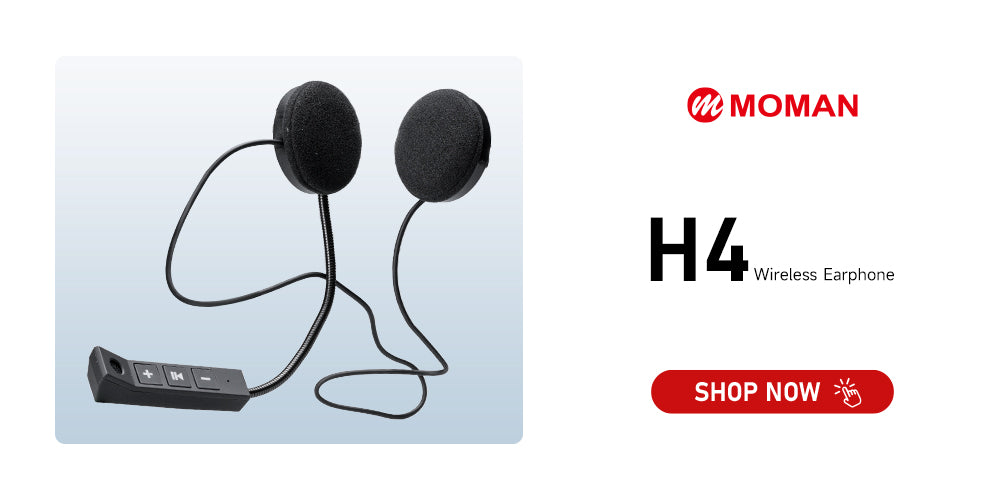 Parameters of spec.

Pros

Cons

Frequency Range:  

2.4026GHz-2.480GHz

Transmission Distance: 20-30 Meters

Mic Distance: ≤1 Meter

Lithium Battery: 3.7V/180mA

Working Time: 5 Hours

Standby Time: 160 Hours

Charging Time: 2 Hours

l  Bluetooth connections for dual mobile devices

l  Both manual control and smart voice assistant are available

l  Audio fidelity with advanced noise cancellation

l  IPX6 waterproof against extreme weather

l  180mA battery only last for 5 hours for communications

l  Lack of indicator lights for real-time checking
Wide compatibility with various helmets
Moman H4 can mounted on all kinds of helmets on the market, which includes the half-face, full-face, modular, motocross helmets, and other kinds. No matter it is helmets for motorcyclists, bikers, skiers, or climbers, Moman H4 earphones will meet your need to wirelessly control your phones.
Easy operation of voice assistant or manual control
Utilizing voice instructions of Moman H4 is another benefit for motorcyclists. Without taking your hand off the handlebar, you may use a lot of the newest Bluetooth communication devices on the market to change tunes, make calls, or chat with other riders or passengers. This enables you to maintain your attention on the road and avoid becoming sidetracked while trying to bike while using your smartphone.
Moman H4 Plus best sounding motorcycle Bluetooth headset
Moman H4 Plus is another type of helmet headset for sale at Moman. Compared to the Moman H4, it can't be used with a half helmet, but it adapts to the latest Bluetooth 5.3 for better performance.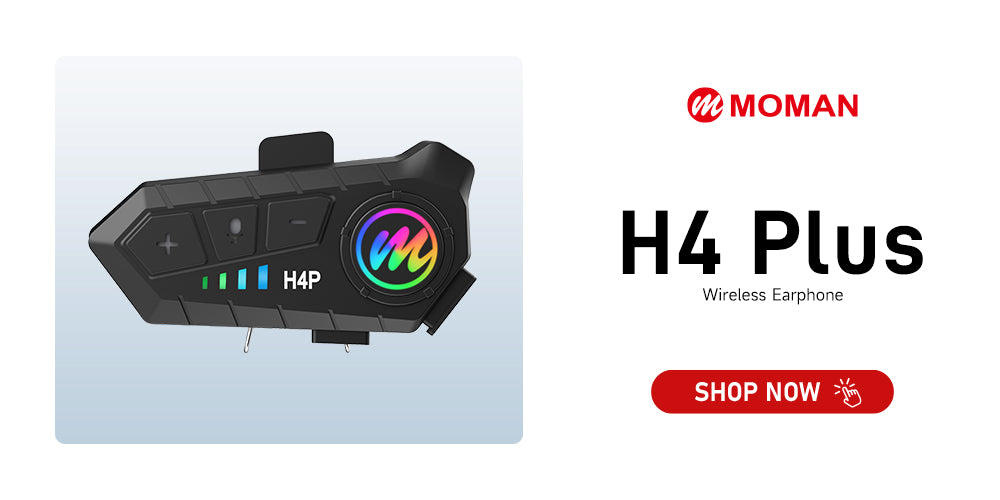 Parameters of spec.

Pros

Cons

Frequency Range: 2.4GHz

Lithium Battery: 3.7V/1000mAh

Mobile Connection Distance: 20 Meters

Working Time: 32 Hours

Standby Time: 360 Hours

Charging Time: 2 Hours

Temperature Range: -20~50°C

l  2.4GHz frequency band for effective noise reduction

l  Long battery life of 32hours and fast Type-C charging

l  One click for smart voice assistant

l  Hi-Fi stereo offers superb sound quality for music streaming

l  Not compatible with half-face helmets for bikers

l  Risk of falling off when the main unit mounted on the outside of the helmet
Compact and waterproof construction
Moman H4 Plus has a sturdy and compact body with qualified battery. It is IPX6 waterproof that prevents water and moisture penetration. You don't have to worry about driving in the rain while having it mounted on your helmet.
Impressive sound quality and intelligent noise-suppression
In addition, the Moman H4 Plus best motorcycle Bluetooth headset for music is designed to have a 40mm Graphene vibrating unit for high-definition audio, providing an extraordinary sound quality experience. You will like its capacity to deliver high-fidelity sound when listening to music even at high speed while driving. Furthermore, motorcycle riders can have great-sounding phone conversations or GPS navigation.
Five considerations when choosing a motorcycle Bluetooth headset
For a fun and safe journey, picking the correct motorcycle Bluetooth headset for communication is crucial. You may choose the best one that suits your demands and budget by taking into account the five factors mentioned below.
Bluetooth version
A great part of modern intercoms and headsets use Bluetooth tech for wireless connection. The more recent versions are BT 5.0, 5.1, 5.2, and 5.3, which improved in terms of communication, range, and battery life.
Helmet compatibility
The headset needs to work with the model of your helmet. Some can not be mounted on specific types of motorcycle helmets, such as motorcycle Bluetooth headsets for full-face helmets may not work with the half-face type. And some do not connect with the inbuilt communication system of your helmets. So be careful to choose the ideal one.
Battery life
The battery performance of the motorcycle headset ought to be sufficient to last the whole of your ride. And there is a difference between the battery life for communication and simply stand-by. Moman H4 has a working time of 32 hours and a standby time of 360 hours.
Comfort and durability in design
Long lengths of time should be spent wearing the headset without discomfort. Choose motorcycle helmet headphones that fit snugly and have comfortable ear cups and pads that are soft and skin-friendly.
Audio quality and noise cancellation
Choose a communication device that produces crisp, clear sound that won't stutter at loud levels. To eliminate wind noise and other distractions while riding, a decent noise cancellation option is necessary.
What can you use the Moman motorcycle helmet Bluetooth headsets for?
Here are the three most common benefits to having a helmet headset with you during ridings: For phone calls, music, and communication.
Connect to mobiles and pick up handsfree phone calls
The headsets Moman H4 and Moman H4 Plus in this article are both Bluetooth-enabled, allowing you to link them with two mobiles at one time. As a result, you may wirelessly access a ton of your smartphone's functionality while riding, which includes making, taking, and hanging up phone calls safely.
Enjoy music streaming with the motorcycle Bluetooth headset
Through applications like Spotify or TuneIn, you may listen to music or radio on the road. In other words, if your phone has a speaker-using app, you can transmit that to the speakers on your Bluetooth headset. And by voice assistant or manual control, you may easily adjust the volume, and switch songs or FM channels.
Keep real-time communication with pillions or other riders
When you and your riding companions have a Bluetooth helmet headset, you can simply communicate if you're riding with another cyclist or a group. You don't have to take the chance of colliding with handlebars while yelling or making gestures. You can carry on a conversation without stopping.
How to fit the Moman Bluetooth headphone device in your helmet?
You'll need to set aside time to correctly install your speakers and headset before riding. Take your time to set it up, you'll enjoy much clearer and more comfortable music with the best Bluetooth headset for motorcycle riding. Here are four steps for beginners to follow.
Step 1: Fit and tide up the wires and pads inside
First, clean the inside of the helmet of all the various pads and then neatly secure the headset and the microphone inside. The earphone foams should go where the ears are, and the cord that connects the expanded boom mic should be glued to make sure it doesn't move or fall off easily.
Step 2: Install the clips and plates on your helmet
Most of the helmet headset products, like Moman H4 and H4 Plus, are packed with clips and plates for installation. What you need to do is to follow the instructions, and clip or stick them on your helmet or in the shell.
Step 3: Mount the main unit of the motorcycle Bluetooth intercom headset
Either a stick-on fitting or a clamp-on fitting will be used to attach the main unit to the exterior of your helmet. You can use the velcro clips to install the Moman H4 main unit on the outside of the motorcycle helmet. Don't worry, it is waterproof and dustproof.
Step 4: Change the placement of the speaker after wearing the helmet
Wait to make the remaining adjustments once the helmet is on. If you feel that the earbuds are not in the right place, you can make changes. Also, you can move the speaker closer to your mouth to allow for clear sound transmission.
FAQ about Bluetooth helmet headsets for motorcyclists
What questions do most people want to know about? Here we provide answers to three frequently asked questions.
How do motorcycle Bluetooth headsets work?
Motorcycle helmet headsets and earphones use Bluetooth wireless technology to connect to your devices, such as mobile phones or sat nav on the motorbike. They enable handsfree operation of your phones through AI voice control or simple button design. Riders can use it for calls, songs, GPS functions, and communication with passengers and fellow riders.
What's the difference between a Bluetooth headset and an intercom?
Intercoms support direct communication among devices in a long-range while the helmet Bluetooth headset can't. The uses of motorcycle headphones are mostly based on the linking to mobile phones. But there are acceptions. Through Bluetooth 5.0, the Moman H4 Bluetooth communication headset for motorcycles can connect to the Moman H1 intercom for a two-way radio.
Motorcycle helmet headsets vs. earbuds, which is better for riders?
A set of phone earbuds will essentially only be used for listening to music and potentially for some communication if they have a very strong microphone. Even yet, compared to Bluetooth communication technologies, they are often less useful or practical for a motorcycle. It might be awkward to use headphones when wearing a motorbike helmet. They are easy to come off or move around, and the sounds might be filled with wind noise.